R Lazy S Ranch Employment Opportunities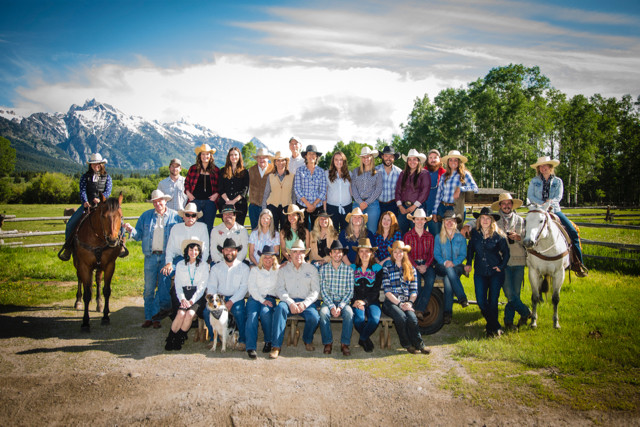 The R Lazy S Ranch in Jackson Hole offers several Wyoming dude ranch employment opportunities during the summer season.
Our employment season runs from early to mid May through the end of September. We ask that you commit to the entire season.
Tired of sleeping dorm style, eating chicken fingers for half your meals and working a 6-day week? Then try Wyoming dude ranch employment opportunities R-Lazy-S Ranch.
We offer comfortable housing in individual cabins, some with another roommate. We serve the same gourmet food to our crew that we serve our guests.We offer one of the highest salaries in the area while also distributing great gratuities every couple of weeks.
Work only a 5-day week and enjoy your time off horseback riding, hiking the trails of the Teton mountains, or just sitting back and enjoying the beauty of the surrounding area.
All we ask is you must be at least 21 years old and have a clean driving record. Unfortunately, we are unable to accommodate any pets on the ranch. We have enough.
Be sure to check the other areas of this site to get a true feeling for the ranch.
R Lazy S Ranch is an equal opportunity employer. All qualified applicants will receive consideration for employment without regard to race, color, religion, sex, sexual orientation, gender identity, age, national origin, or disabling condition.
To get information about our current ranch employment openings, please read here.
How to apply?
Send us a resume at info@rlazys.com indicating what past jobs you have held. Resumes should reflect experience within the field you are applying for.
Include several reference names of those you have worked for.
Send this information either by mail to the addresses listed below or email them.
Thanks for your interest!