Preparing for your R Lazy S Visit
Answers to our most frequently asked questions & hot-tips from our guests

What If I don't have a lot of riding experience? 
"If you aren't used to riding your legs may feel like rubber after the first morning ride. You may think 'There's no way I can do this all week!' but by the third day you'll be doing all day rides and you won't be bothered one bit. Trust the wranglers and be ready for the adventure of your life!" – advice from our guests
You don't need any previous riding experience in order to enjoy your time at the R Lazy S. Our wranglers pair each rider to the appropriate horse for them, provide guidance and training in the ring and on the trails, and offer a range of trail riding experiences to fit everyone's needs. We offer half-day rides each morning and afternoon as well as all day rides, and you can choose a walk, trot or loping rides so you can enjoy as much or as little riding as you're up for.
"If you don't ride very often, wear lightweight long johns (or pantyhose) under your jeans for the first couple of days. Your knees and other bits will thank you!" – advice from our guests
I can't find any cheap flights to Jackson Hole! What should I do?!
All Jackson locals and long time guests know the best tips and tricks for getting in and out of Jackson when flights are pricey. Flying into another airport and renting a car is our favorite travel hack.
We recommend these Airport alternatives:
Idaho Falls, ID (IDA) <2 hrs
Salt Lake City, UT (SLC) ~5.5 hrs – a beautiful drive and we highly recommend stopping at Honeyville or Lava Hotsprings on your way.
Denver, CO (DEN) ~8 hrs – a beautiful drive through sleepy western towns, mountains, and desert. Stop in Lander for an amazing burger or in Dubois for the world's BEST pie. Lots of easy hikes to do along your route.
Bozeman, MT (BZN) ~ 4hrs
Cody, WY (COD) ~ 4.5hrs – home of the great Buffalo Bill, a truly Western town with a great museum
West Yellowstone, MT (WYS) ~2.5hrs,
When flying into/out of Bozeman, Cody, or West Yellowstone, take the time to explore the glorious Yellowstone National Park en route.
"If you have the extra days, definitely worth adding a road trip!" – advice from our guests
An added perk of driving is that it gives you some time to adjust to the altitude before jumping into riding and all our ranch activities.
Frontier Airlines has a weekly shuttle flight from Denver to Jackson so another option would be to time your arrival and departure to coincide with this 'budget' airline's schedule.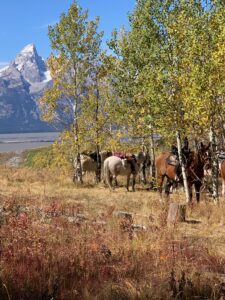 What should I expect being at high-altitude?
Jackson Hole is located at about ~6,400 ft which can feel different than being at sea level. You'll adjust to the altitude fairly quickly (many of our guests don't notice a thing) but at first you may have a slight headache or feel short of breath when you exert yourself. Bear in mind, also, that alcohol-consumption will affect you more at altitude than down low. We recommend drinking lots of water- staying hydrated is key.
"Give yourself time to get used to it!" – advice from our guests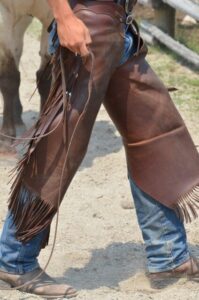 What's the dress code?
We always love when people dress in their cowboy best, we are a dude-ranch after all. That being said, we don't have any sort of strict dress-code at the ranch, just a couple of requests.
For our welcome cocktail-party Sunday night and our "sit-down" style dinners (Monday, Wednesday, and Saturday), no shorts or t-shirts, please.
We highly recommend dressing in layers because our temperatures here in the mountains are so varied throughout the day. Mornings and afternoons can be quite cool (even in July & August!) and the middle of the day can be quite hot.
Remember to pack a good raincoat you can comfortably ride in, the weather can change quickly and you might get caught in an afternoon shower while on a ride. We offer slickers in the gift-shop if you'd prefer to purchase one here.
Hats for keeping the strong sun off your head is always a good idea (we recommend a cowboy hat because it covers your ears). While riding with a cowboy hat, you'll need a chin-strap, otherwise it may blow off and spook your horse. (Hat-strings are also available for purchase.)
Riding helmets are required for children under 12 (we have some available for loan but we recommend bringing your own for the best fit.)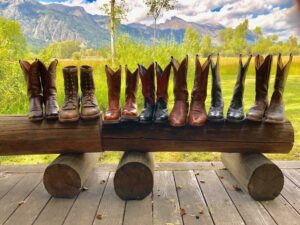 Do I need to bring my own cowboy boots?
We recommend you bring your own cowboy boots to the ranch, but in case you forget, we have a boot box filled with loaner options. Our loaners, which include a miscellaneous variety of sizes, are well loved but serviceable. We cannot guarantee you will find the perfect fitting boot so please bring a comfortable riding shoe of some sort.
Here are our guidelines for picking a riding shoe if you don't have your own cowboy boots:
Pick a comfortable shoe that is not too wide, has a low heel, and is smooth-bottomed. The heel will keep your foot from slipping all the way through your stirrup and smooth-soled shoes allow your foot to come out easily from the stirrup (both important safety precautions.)
Hiking shoes are not ideal riding shoes because they're wide and have a lot of friction making it hard to come in and out of your stirrups.
The most important thing is comfort. If you buy new boots or shoes, wear them around and break them in before you show up for your first day of riding on the ranch.
If you'd like to get your own cowboy boots, we happily recommend Boot Barn. They have a large selection of styles and sizes.
"Riding is not the time for a fancy boot! Wear comfortable boots you don't mind getting dirty or scratched." –advice from our guests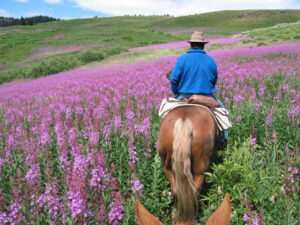 Is the ranch suitable for solo travelers?
Absolutely! All are welcome and we have several cozy cabins perfect for solo travelers. A strong sense of community is important to the perfect dude ranch experience and we pride ourselves on making sure all our guests feel welcomed and connected. Upon arrival on Sunday evening you'll enjoy a welcome cocktail party where guests can meet and mingle with each other and our crew. Ranch meals are served at long dining tables, which fosters a sense of camaraderie amongst the group. Our long-time guests pride themselves on welcoming in our 'new-timers' to the ranch family and by the third day you'll have formed bonds that last forever.
Do I need to rent a car?
This is entirely up to you. Some of our guests don't leave the ranch (except for riding excursions into the park) all week long and they're perfectly content to slow down and disconnect in our tranquil environment.  We currently aren't offering an airport pickup/dropoff however you can always hire a Taxi or Uber to get you back and forth.
Other guests like the freedom to explore town, go hiking in the parks, or hit the world-famous Million Dollar Cowboy for dancing. If you're planning to rent a car please note that not all rental car companies are onsite at the JH Airport. Alamo, National, Enterprise and Avis/Budget are available on site, while Hertz, Dollar, Leisure Sports, and Thrifty will provide a shuttle service to their location. If you're choosing an off-site rental car company please note that they're a 20-30 min ride from the airport. Please confirm the location of your rental company when making your reservation…(they do move around!)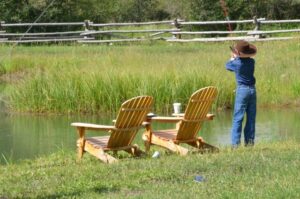 What sorts of extra-curricular activities should we do when we're not riding?
There's so much to do, its just a matter of picking what interests you most! Cast your line in our stocked pond or book a guided fishing trip along the Snake River, one of America's top trout streams. Tube our creek or enjoy a guided wildlife stroll around the ranch. Take a scenic or whitewater river float trip, see an authentic western rodeo, take a hike or go on a bike ride on miles of trails and paths located just beyond our gates (bike rentals available in Teton Village.) Take a road trip to nearby Grand Teton National Park or Yellowstone National Park. Or, simply sit by the fire reading and watching the world go by.
Anglers delight at the fishing opportunities here. The R Lazy S has direct access to several miles of private frontage on the Snake River, one of the West's top trout fishing streams. Many other streams and mountain lakes, known for the quality of fish caught, are also nearby.
On particularly warm days we highly recommend the ranch's swimming hole and meandering creek for prime swimming and inner tubing but beautiful mountain lakes can be found by short walk or hike in Grand Teton National park. Scenic float trips on the Snake River are available through professional outfitters and include half or full-day trips on quiet waters beneath the towering Tetons or on whitewater stretches in the Snake River Canyon.
"Try fishing for trout with a guide on the Snake. All catch & release and the guide will teach you everything you need to know." – advice from our guests
Do you serve alcohol?
"Take advantage of the BYOB policy, we enjoy sitting with friends on our porch sharing a glass of wine before dinner and enjoying a nightcap by the fire in our cabin." – advice from our guests
The ranch offers complimentary alcoholic beverages during our Sunday night welcome party but the rest of the week we are BYOB. If you'd like to pick something up for your stay we highly recommend Dornan's Wine shop, its considered one of the best in the West. There are also several other options available in nearby Teton Village as well as Westside Wine and Spirits at Aspen Market.