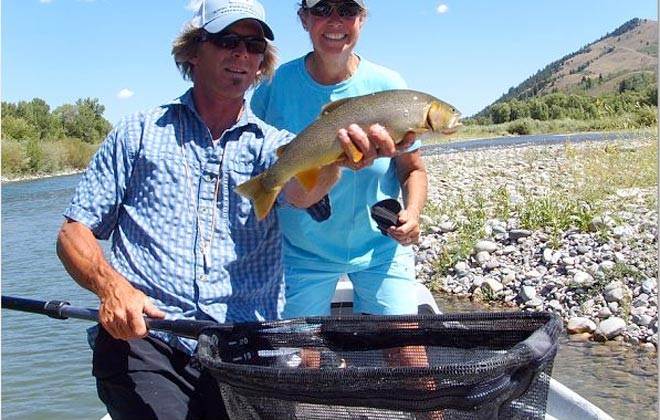 Find your Jackson Hole fishing paradise right here. The ranch has direct access to several miles of private frontage on the Snake River, one of the West's top trout fishing streams. The Gros Ventre and Teton Rivers, plus many other streams and mountain lakes, known for the quality of fish caught, are also nearby.
Jackson Hole Fishing Guides
Our highly qualified, licensed fishing guides can take you on a private drift boat fishing trip on the Snake River in Grand Teton National Park or the nearby South Fork and Green Rivers.
Our guides are committed to providing you with the finest gear, flies and attention to many other details that help to ensure an unforgettable and safe fly fishing experience. Our guides will pick you up at the ranch and take you on either a full day or half-day trip for beginners to advanced anglers.
Parts of the Snake River has been designated as Wild and Scenic and our guides our proud to educate our guests in the values and responsibilities of such a designation. Fishing is one rewarding aspect of a guided fishing trip, but the scenery and wildlife are unforgettable.
The Ranch's location provides easy access to several premier shops in the valley. They not only provide fly's and equipment, but can answer any questions about fishing in the nearby streams and lakes.
Experience the finest in Jackson Hole fishing as a guest of our dude ranch.