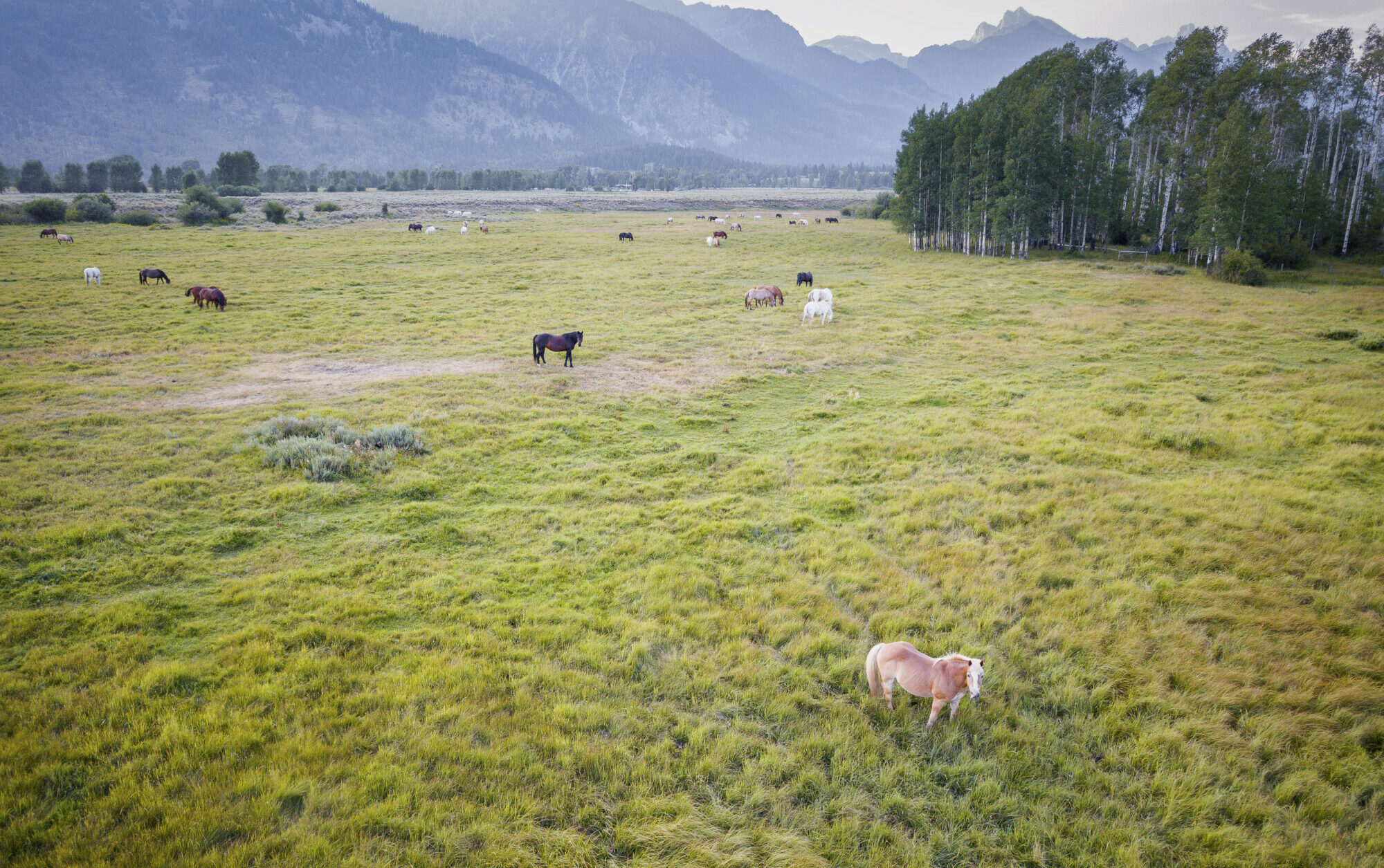 We hope all of you are safe, healthy and with family and friends. These are unprecedented times with many challenges and different phases of opening all around the country.
Everyday we are planning on how to open the ranch while offering you a vacation experience like no other. The R Lazy S is required to follow Federal, State, and local regulations but most importantly adhere to the requirements of our local Teton County Health Department. With that in mind, Jackson Hole is slowly opening with many strict orders and guidelines still in place.
With that in mind, you may be wondering what vacationing on the R Lazy S Ranch may be like this summer. We admit, it will be different this summer. However, the scenery, the sounds, the smells have not changed. They will always be here and will never change.
As of May 21, 2020, these are the planned changes to our daily operations:
1. In order to adhere to social distancing guidelines, what activities will change on the ranch?
The lodge will be closed except for dining purposes.

Food and drinks may be available on the front porch in snack packages.
Self service of lemonade, iced tea, coffee and cookies will not be available.

Airport shuttles will not be available this season.

We ask that you either rent a car, or take advantage of Jackson's taxi and Uber service.

The Sunday Night Cocktail Party will unfortunately not be offered.
Evening ranch activities will not be offered.
Social gatherings of more than 25 people per our state government is allowed as long as you are 6' away from each other. If you are closer than 6′, you are required to wear a mask.
We suggest you bring your own mask, or one will be provided for you.
We will leave social distancing and wearing masks up to our guests.
Please Note: If you are sensitive to whether other guests will adhere to social distancing guidelines or not, we recommend delaying your visit to the ranch until 2021.
2. What will dining be like at the ranch this summer?
Dining will either be available in the lodge at separate smaller tables or served as grab-and- go meals to be eaten at your cabin. You will be assigned to your own table for the week for all meals eaten inside and outside.

All meals will be plated.
Choices will be more limited.
Special dietary accommodations may be limited.
Staggered seating may be implemented at times.
When the weather is nice, we will encourage you to sit outside.

Due to our state guidelines, families will need to eat together, including children.

Each table can only seat a maximum of six guests. This table size may be limited.
Guests may be allowed to sit with others outside of their immediate family, but that group must dine together throughout the week.
Table assignments will be posted Sunday night.

If you prefer not to be grouped with people outside of your family, please let us know prior to your arrival.

Dining on the front porch will be allowed but only with the same guests assigned to your table throughout the week.
The Wednesday Breakfast Ride, Thursday night and Saturday Lunch Bar-B-Q's will be not be buffet style but served at your table.
3. Will there be children programs on the ranch?
This has been our most challenging question. The State Health Department, however, has advised us that we should not run our Children's Program this summer due to it not meeting their social distancing guidelines.
For this reason, we will be canceling our Children's Program this season. A Kid's Counselor will not be available this summer to be with your children.
Children will still be welcomed on the ranch, but it will be up to their parents to supervise their activities when not riding.
Children will eat with their parents for all meals and will be assigned to their parent's dining table.
The Children's Riding Program will still exist but with limitations.

Gymkhana and Tag will not be offered this summer.
Parents are expected to supervise their children before and immediately after the rides. (A Kid Counselor will not be available.

Parents will be responsible for managing their children and their adherence to social distancing.
The State Health Department advises that children outside of a family should not play together, and we ask that you pay particular attention to this recommendation.
4. How will the riding program be affected this summer?
Luckily, horseback riding adheres well with social distancing. However, some changes will be made so our guests and crew will remain safe and healthy.
When mounting and dismounting, our wranglers will wear masks and gloves.
It is recommended that our guests also wear gloves at all times.
Before you are given a new saddle or reins, they will be wiped and disinfected. If, during the week, you change your saddle or reins, they will be disinfected prior to your use.
All day rides will require guests to either take their own cars for transportation or wear masks when inside ranch vehicles.
Equipment loaned like helmets and rain coats will be loaned for the week. It would be best to bring your own. FYI: helmets are now required for children ages 12 and under.
5. How will my cabin be cleaned?
Your cabin will be cleaned before your arrive with EPA approved cleaning products.

Your cabin will not be cleaned thereafter until you depart.
If you wish clean towels, bags will be available in your room to leave them on your porch before departing for your morning ride.
Garbage and recycling should also be put out at this time.

Cleaning supplies will be available in your cabin so you may self-clean if necessary.
6. What are some other changes?
The ranch office and store will be closed to guests.

When checking into the ranch on Sunday, we ask that you call the ranch number and Cathy will meet you outside the office.
The ranch store will be closed to foot traffic, but items may still be purchased by filling out a form and items may then be picked up outside the office.

The Recreational Room will be closed this season

Rental boots and hats will not be available.

The book library will be available.

We ask that one guest at a time access the book library.
A book deposit box will be available in the book library to return used books.

Personal laundry service by our housekeeping department will not be available this year.
We discourage off-ranch activities such as trips to town or Teton Village.
7. What happens if someone gets sick on the ranch?
If a guest, while at the ranch, displays any symptoms of the COVID-19 including:

Fever
Cough
Shortness of breath
Loss of taste or smell
We are required to follow guidelines by the Teton County Health Department which include:
Guests are to be tested for COVID-19 at our local hospital.
If a guest tests positive:

They, and their family are advised not to leave Teton County until they have recovered. In most cases, this will be approximately 2 weeks.
Everyone the guest came into contact with during the last 48 hours will need to do a mandatory 14-day quarantine. It does not matter if the other people have symptoms or not. Please be aware that this means if you come into contact with somebody else who is sick during your vacation, you may end up spending an extra two weeks in quarantine in Jackson.
Contact tracing efforts carried out by the health department, the sick individual, and ranch management will determine those potentially infected by the guest with COVID-19.
Quarantined individuals would be released from quarantine on the 15th day from when they started.

 Even if a guest tests negative they will still be expected to finish their quarantine due to the possibility of the test producing a false negative early in the testing phase.

If a guest wishes to leave the ranch and go to a different hotel, they may do so, but if no other hotels are available, we are required to allow them to stay on the ranch. However, they will be responsible for the cost of their additional stay.
If a guest stays on the ranch, they will be required to quarantine in their cabin for the approximate 2 week period and will not be able to participate in any activities including communal meals.
If symptoms of COVID-19 appear shortly after you have departed the ranch, you will need to immediately contact us so we can inform other guests who were on the ranch as well as our employees.
If a crew member gets sick on the ranch, they will also be quarantined.

With our crew working & living closely together, if one crew member was to be quarantined, it would most likely cause other crew members to quarantine also.

This situation could likely cause the ranch to suddenly cease operations and close for a week or two.This may effect your reservation with us.

 A new policy will be required for all guests to sign agreeing to these terms and restrictions.
As harsh as this may appear, we, again, are required to follow guidelines given to us by our local Health Department. If you, or another guest comes down with COVID-19 while at the ranch, other guests can assume they may also have been infected. If you are uncomfortable with this, you may wish to delay you visit until 2021.
It is with heavy heart that we have to write this letter to all of you. But, we felt it necessary to make it clear what you can expect at the ranch with the current restrictions and guidelines that have been currently placed upon us due to the COVID-19 virus.
As we all struggle to get through this hopefully once in a lifetime pandemic, we should all look forward to the good times ahead soon.
Sincerely,
Kelly and Nancy Stirn